Talk for Writing across the secondary curriculum
This course will be online:-
Julia is presenting via webcam, accompanied by slides and activities
Opportunities for delegate questions and comments
A short task between the sessions
A copy of the slides will be made available after the course, along with further materials
This is a one day course split over two days, sessions will be 4.30pm to 6.00pm in the Autumn Term. Dates to be confirmed.
Talk for Writing successfully raises attainment from early years through to A Levels because it is based on how human beings learn, moving from imitation to innovation to independent application. Its focus on talking the text helps students internalise the types of language needed to successfully communicate in any subject.
The secondary curriculum requires students to write challenging text for a wide range of purposes, typically making precise, concise, factual writing demands. Talk for Writing helps students feel confident in their ability to rise to the challenge. They will know how to plan an answer along with the patterns of language and vocabulary that different writing tasks require.
Moreover, this process will help them to comprehend, analyse and recall the related content, so they have something meaningful to write. And, when they've finished, they will feel proud of themselves and motivated to learn.
The course is suitable for senior managers, anyone with responsibility for teaching and learning or literacy, heads of department and teachers of any subject who are interested in raising students' attainment and motivation.

This interactive, engaging course will provide an introduction to the Talk for Writing process including a variety of examples of how it can be implemented in a wide range of subject areas.
Delegates will learn how to help students:
internalise the key vocabulary of the topic which is being studied
internalise text in a range of interactive ways from simple information to complex A Level text
box up text so that they understand how to structure their work and can transfer the skill to any subject that requires texts or processes to be planned
analyse text so they understand the key ingredients required: including how to plan it, link it and express it appropriately and, of course, check it
reflect on progress by comparing the cold task at the beginning of units to the hot independent task at the end of the unit
become confident independent learners who are motivated to learn
transfer skills from one subject to another.
Presenter Profile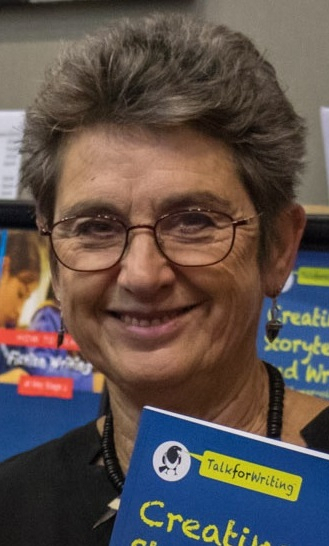 Julia Strong is the author of a wide range of best-selling books on teaching English and Talk for Writing across the curriculum including:
English Frameworking, Literacy at 11 –14, Literacy Across the Curriculum – Making it happen and Talk for Writing in Secondary Schools.
Talk for Writing across the primary curriculum (5-12) (which has sold over 50,000 copies), Talk for Writing in the Early Years, Creating Storyteller and Writers and Jumpstart! Grammar (which entered Amazon's top 100 sellers list!), all co-authored with Pie Corbett.
Julia started her career as an English teacher and was a deputy headteacher in inner London. After 25 years of teaching, she became deputy director of the National Literacy Trust and director of the National Reading Campaign. While at the Trust, she acted as critical friend to Pie Corbett in the development of Talk for Writing and now works with Pie developing Talk for Writing – see www.talk4writing.com. She has provided training days for hundreds of secondary schools as well as primary schools, all-age schools and FE colleges.
Feedback from training and conferences
"Talk for Writing is a pedagogical model that has transformed teaching and learning in this school." – Karen Roberts, Executive Headteacher, Rainham Girls School
"TfW, benefits all pupils & is clearly targeted to address barriers to learning faced by disadvantaged pupils. The learning walk flagged up the programme in practice. Full buy-in from leaders … possibly transformational." – Pupil Premium Review at John of Gaunt, Trowbridge by National Leader of Education (Nigel Griffiths)
I think this was dynamite and is THE issue we should focus on as it encompasses much of the AFL and behaviour sessions." – Teacher at a training day (Coventry)
"At last a literary consultant who really understands the phrase 'across the curriculum' rather than trying to make us all English teachers." – Conference delegate
Thank you for providing your excellent 'Talk for Writing' training for us. We truly appreciated your wisdom, vast experience, fast-paced intellect and the very practical nature of the workshops. This ensured that all staff had something to take away and try immediately. The staff Evaluation sheets were exceptionally positive, and we are convinced that this can have a transformational effect if we embed it in our developing practices. – Peter Kubicki, Ta'allum Group - Secondary School Improvement Consultant
"The students feel pride in their own improvement and success … It's slashed the time we have to spend on marking … There's a real sense of 'Let's see what we can do now' – and there's much more conversation about teaching and learning now."– Head of Science, Slough and Eton Business College
Cost: £250 per delegate which includes lunch and resources; £299 for 2 teachers from the same school booking on this course
Booking Form
The information below will be used solely to process your booking. You can see further information on our privacy statement here.
To book your place, please complete the form below: